Dear Guest,
Welcome to Women's Integrated Network, WIN, Athy's Website.
WIN, Athy is a Voluntary, Not for Profit & Non-Political Women's Network. Its remit is to Empower all Women for Positive Integration through quality Information provision, Skills / Knowledge Acqusition, Training, Potential Development and Social Networking for the common good.
On this site, WIN, Athy has tried to upload information that may be of interest to you.
These include information about WIN, Athy, Some Past / Upcoming Activities, Photo gallery, links to our Networking colleagues/favourite sites e.t.c.
In addition we encourage you to check out , Support/Donations, Publications, WINNING KIDS and much more.

We hope you will enjoy your time on our website and pass on the link to your friends and families. We will be glad to know that you visited and to read your comments, so please drop us a line using the contact details.

A well Informed Woman is a well Integrated Woman and Together Everyone Achieves More (TEAM).

Happy Surfing,
WIN, Athy

N:B

POSITIVE INTEGRATION
For WIN, Athy, positive integration is when Women are supported to develop their potentials and become Economically, Socially, Culturally, Psychologically, Mentally, Spiritually and Morally empowered to be the best they can be, enhancing the already existing good in all humans and thereby promoting peaceful co-existence.
WIN ATHY's VALUES
· Positive Integration
· Innovative thinking and courage
· Practical solutions such as reaching out, information, education, training, social inclusion events etc
· Integrity and sustainability
· Open to goodness from all over the world
Our VISION is
To develop a positively integrated community where all citizens are equal, respected, appreciated, celebrated and empowered to attain their full potential for the common good.
@@@@@@@@@@@@@@@@@@@@@@@@@@@@@@@@@@@@@@@@@@@@@@@@@@@@@@@@@@@@@@@@@@@@@@@@@@@@
!!!!!

Every Year around the 3rd week in September, a Nationwide
Celebration titled CULTURENIGHT takes place all over Ireland.
This event is one of such interesting events supported by
KILDARE COUNTY COUNCIL's CULTURENIGHT TEAM:
https://www.facebook.com/events/937967806326150/
and it is FREE to participate and attend.
If you wish to participate in the cooking challenge, write to
inform us what you will cook then on Friday the 16th come with
the ingredients and WIN will provide the kitchen.
There are L

ovely Prize

s to be won.
The Age Categories are as follow:
1] 9-11yrs (to cook only Cold Food)
2] 12-14yrs (to cook Cold or Hot Food)
3]15-18yrs (to cook Cold & Hot Food)
4] Above 19 including Mums+ Dads (to cook Cold & Hot Food).
www.womensintegratednetwork-win-athy.org

!!!!


PPPPPPPPPPPPPPPPPPPPPPPPPPPPPPPPPPPPPPPPPPPPPPPPPPPPPPPPPPPPPPPPPPPPPPPPPPPPPPPPPPPPPPPPPPPPPPPPPPPPPPPPPPPPPPPPPPPPP
WIN was delighted to have had the honour of Monica Anne who was the Special Guest on Thursday, 2nd June, 2016 @ the Athy Youth Cafe (Old Dispensary), a stone throw from Athy Library, Emily Square during
''10th Celebrating Diverstity in Athy & 9th Anniversay of WIN's Public Launch''
It was a free, friendly and enjoyable event, proudly supported by Kildare County Council's Festival Grants. It was great celebrating with you, thanks.
Watch out for 2017 celebrations.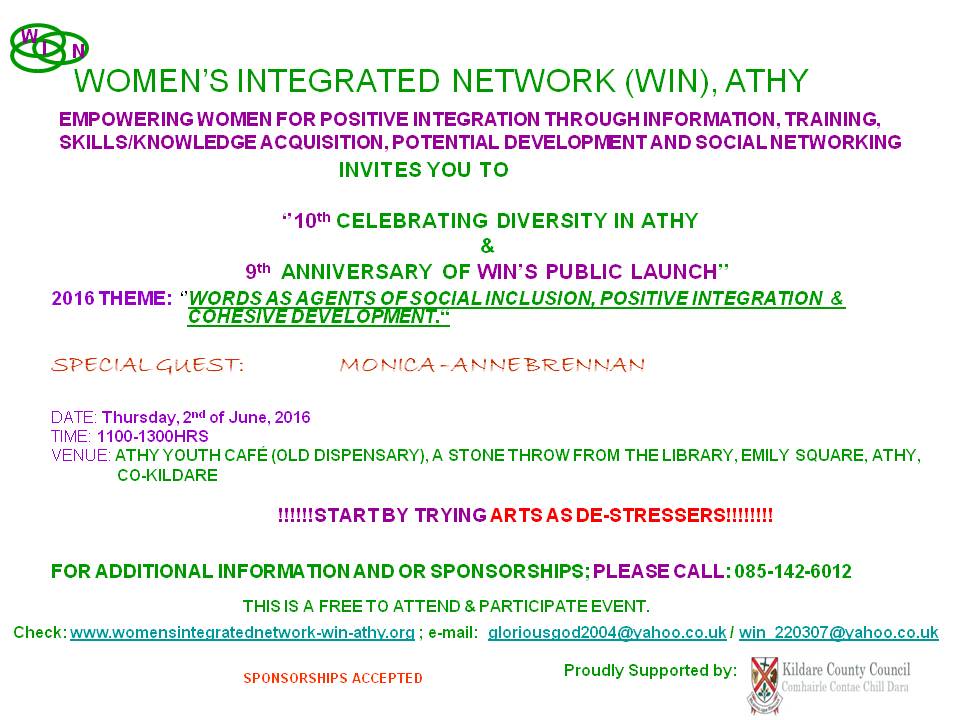 )))))))))))))))))))))))))))))))))))))))))))))))))))))))))))))))))))))))))))))))))))))))))))))))))))))))))))))))))))))))))))))))))))))))))))))))))))))))))))))))))))))))))))))))))))))))))))))))))))))))))))))))))))))))))))00
Want to learn how to prepare any of the dishes below? Order your copy of WIN's International Cookery Book; 2nd Edition.
@@@@@@@@@@@@@@@@@@@@@@@@@@@@@@@@@@@@@@@@@@@@@@@@@@@@@@@@@@@@@@@@@@@@@@@@@@@@@@@@@@@@@@@@'''
Christmas Event; Sat. Dec, 12th, 2015 completed, look out for 2016 event.......
@@@@@@@@@@@@@@@@@@@@@@@@@@@@@@@@@@@@@@@@@@@@@@@@@@@@@@@@@@@@@@@@@@@@@@@@@@@@@@@@@@@@@@@@@@@
Check NoticeBoard Page for more and archives.

''''''''''''''''''''''''''''''''''''''''''''''''''''''''''''''''''''''''''''''''''''''''''''''''''''''''''''''''''''''''''''''''''''''''''''''''''''''''''''''


<a href="http://www.chillydomains.com/uk?affAdvId=3019"><img src="http://www.chillydomains.com/static/download/uk/affiliate/gif/468x60_banner_uk_gruen_4_schritte.gif" /></a>